Peak Season Delays at Ports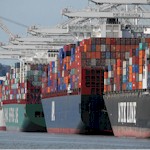 There was a slow start to the peak shipping period this year but the last few weeks have seen a large increase in the volumes of containers arriving at Australian ports. With the increased volumes come backlogs and delays to container availability, and coupled with the urgency of many containers which are subject to delivery deadlines for clients, delays become frustrating. Additional to congestion delays, Australian Border Force (ABF) staff and terminal staff have also engaged in rounds of industrial action in recent weeks, with more action scheduled.
ABF staff action included the non-processing of container x-rays at the various CEFs (Container Examination Facilities) around Australia. This led to delays of up to 10 days for several clients while containers waited in the queue to be x-rayed. Unsympathetic shipping lines - cash-strapped and looking for any way to make money - usually refuse to offer additional time in these circumstances as well which rubs further salt into the wound with high container detention charges being levied.
With more industrial action at ports coming up over the next few weeks it is expected that heavy delays will be experienced.