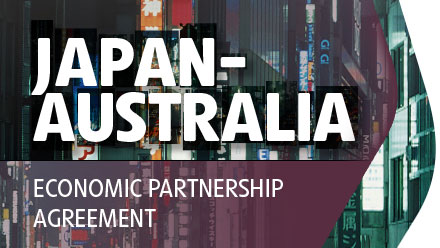 April 1 marks the fourth round of tariff cuts and quota volume increases under the Japan Australia Economic Partnership Agreement (JAEPA), which will provide exporters with more opportunities on a range of agricultural commodities; including honey, beef, dairy, wine, seafood, cereals and horticulture products.

Agriculture minister Barnaby Joyce said "Japan has been a leading market for Australia's high quality and safe agriculture, food, fishery and forestry product exports for several decades, and is currently ranked second with $4.7bn worth of trade in 2016. This fourth round of cuts includes chilled and frozen beef tariffs falling to 29.9% and 27.2% respectively, down from 38.5%. Beef remains our leading agricultural export to Japan, worth $1.8bn in 2016."

More examples of products with decreasing tariffs include honey reducing by a further 2.3%, Southern Bluefin tuna by a further 0.4%, and grated cheese by 1.2% (with a quota volume increase of 80 tonnes to 440 tonnes for the year from 1 April 2017).

"In 2016 Australia gained new access for melons and an expansion of access for pumpkins from just Tasmania to all of Australia. The pumpkin tariff is now zero under JAEPA, and the pre-JAEPA 6% tariff on melons is also now zero," Mr Joyce said.

The Australian Melon Association industry development manager Dianne Fullelove welcomed the opportunity to export melons to Japan through the JAEPA, with new market access and the tariff on melons now at zero. "The further tariff reductions benefit nearly 380 rockmelon, watermelon and honeydew melon growers," she said.