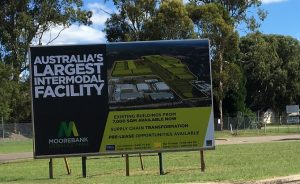 The development of Moorebank Logistics Park is underway, with the official launch ceremony held on site this week. Qube is developing the 243 hectare site and will manage and operate it under a 99 year lease. Once complete, the facility will cover up to 850,000 square metres of space and include integrated warehousing. Operationally, it is expected to transport 1.5 million TEU of freight from Port Botany to Moorebank by rail.

Qube managing director Maurice James said "Linking one of the nation's busiest ports by rail to an inland facility with the sheer scale and location benefits of the Moorebank site is a game changer that will deliver huge long-term benefits to consumers and businesses that will operate here. The commencement of construction is a significant milestone that recognises our success and brings us a step closer to realising the substantial benefits this development will deliver for the people of southwest Sydney, and NSW more broadly."

Australian Logistics Counchil (ALC) managing director Michael Kilgariff said the project was expected to deliver $11 billion in economic benefits over the coming three decades. "The solution to meeting the east coast's growing freight task, reducing road congestion and improving community amenity lies in establishing more efficient road and rail connections from ports to intermodal facilities." he said.