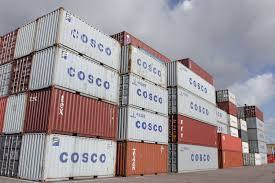 In headline news this week, COSCO shipping line will acquire OOCL for HK$49.23 billion (AUD$8.28 billion) in a move that will expand the mainland Chinese company to the third-largest container liner in the world. COSCO offered HK$78.67 (AUD$13.23) a share for OOCL's parent company Orient Overseas International Limited (OOIL), a 31.1% premium above OOIL's closing price last Friday of HK$57.10 (AUD$9.60).
Assuming all shareholders sell, COSCO would own 90.1% of OOIL, and partner Shanghai International Port (Group) (SIPG) would hold 9.9%.

The combined COSCO and OOIL lines are to operate more than 400 vessels over an expanded network, with capacity exceeding 2.9 million TEU. According to data published by Alphaliner, COSCO currently has 1.755m TEU in capacity, and with the addition of OOCL's capacity would bring the total to 2.421m TEU. CMA CGM would be knocked out of third place with its 2.359m TEU, with MSC at second with 3.081m TEU, and of course, Maersk will still rank number one with 3.444m TEU.

It is inevitable for the future of the shipping industry that lines will continue to consolidate or be acquired as carriers seek safety in numbers, but the consequence for shippers is the limited choice and market power to the top carriers.