Something Fishy in the Mail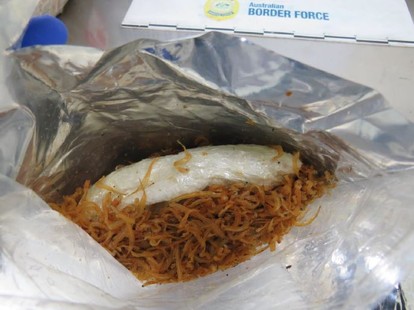 On 8 July 2017, a consignment marked as 'dried food' was sent via express mail from China and selected for further examination by ABF officers at the Sydney mail gateway facility. X-rays revealed anomalies within the package and a physical inspection revealed 19 packets of ephedrine concealed inside dried fish and other dried seafood.

After further investigations, ABF officers executed search warrants at properties in West Ryde and Rydalmere, during which the officers seized an additional package of ephedrine weighing 9.5 kilograms and a BB gun. The combined street value of both seizures is estimated at $1.9 million.

Australian Border Force (ABF) investigators have arrested and charged a 37 year old Chinese national with allegedly importing a commercial quantity of a border controlled precursor, which carries a maximum penalty of 25 years' imprisonment and/or a fine not exceeding $900,000.

Ephedrine is used as a precursor agent in the manufacture of illegal methamphetamine substances, such as ice.

Acting Commander ABF Investigations Matt Stock, said the detection was another great example of the ABF's ability to detect and investigate illicit importations and disrupt the local manufacture of methamphetamine. "This is a significant detection thanks to outstanding work by ABF officers and investigators, and as a result, a large amount of drugs will never make it to our streets and cause further damage to our community", Acting Commander Stock said. "Even using unique concealments like this, these importers are no match for our highly trained officers and cutting-edge x-ray technology."

The man appeared before Parramatta Local Court on 11 July 2017 and was remanded in custody to reappear on 22 August 2017.