International Drug Syndicate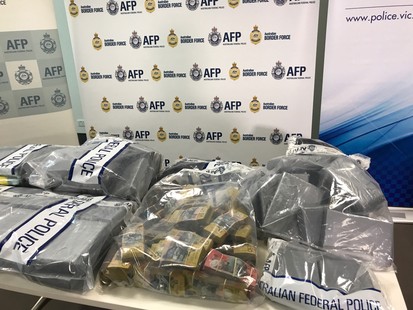 Police and border protection agencies have significantly disrupted an international crime syndicate allegedly involved in the importation of illicit drugs into Victoria. On Monday 26 June 2017, a container that arrived from Panama was examined at the Melbourne container examination facility where three suspicious black duffle bags were found concealed inside the container. Inside each bag were 26 blocks of a white substance, which tested positive for cocaine.

On 29 June 2017, tactical officers from the Australian Federal Police (AFP) and Victoria Police assisted Taskforce Trident investigators as they executed a number of search warrants across Melbourne in Docklands, Parkville, South Yarra, Essendon, Caroline Springs, Mernda, Sunshine West, and Carlton. Seven men were arrested for their alleged role in attempting to import approximately 92 kilograms of cocaine into the city, with an estimated street value of $30 million. Approximately $580,000 cash was also seized by police as part of the operation.

The men have been charged with a number of offences related to the importation and attempted possession of commercial quantities of a border controlled drug as well as money laundering offences.

The operation was led by investigators from the Trident Taskforce, who have been investigating this international criminal syndicate for more than a year. The AFP, police force and border protection agencies played an important part to help detect and disrupt criminal activity in the drug trade. As well as the seven arrests made, the operation has led to arrests and seizures in other state jurisdictions and has caused significant disruption to an international drug syndicate operating across several countries. This has been a great collaborative effort by all agencies involved.